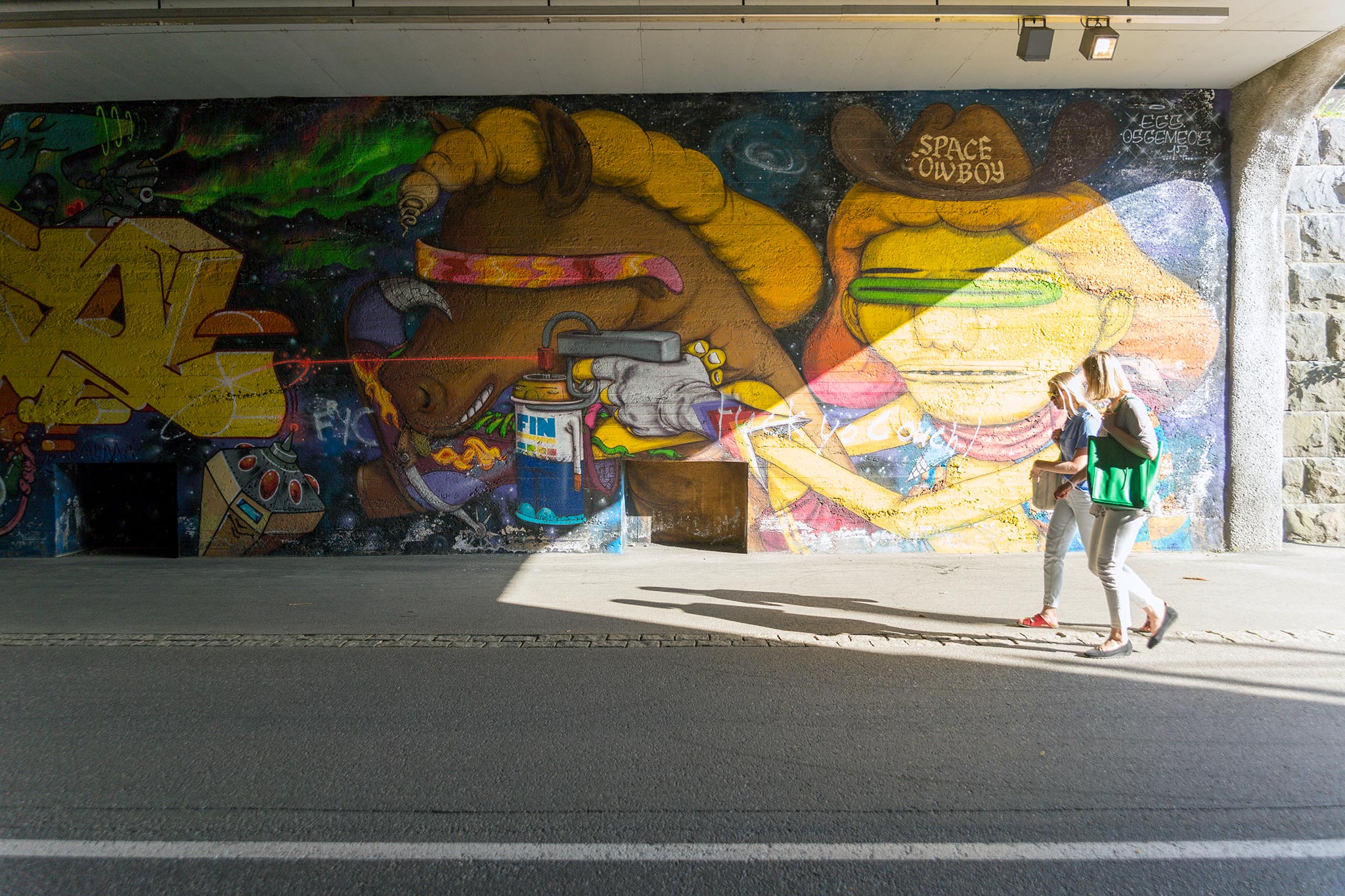 Audio tour "Artistic Helsinki" offers art adventures
Tripstereiden paikallisvinkit
päivitetty 28.09.2021
Helsinki is a splendid art city that you can discover with a DayTripster audio tour of the city's art gems. Visit galleries and admire street art, get inspired by the wild street art and installations, and take a peak into the most intriguing museums and art boutiques. You will also hear fascinating stories of Finnish artists!
Artistic Helsinki audio tour consists of 12 audio stories as well as our earlier stories about the most important art museums and design spots. You will find all spots on DayTripster App map, create own tours and favourite lists and get the route directions. Autumn offer: the tour costs only 1.09EUR! Let's go!
Download DayTripster App now with all interesting content!
Finland -> Helsinki -> Artistic Helsinki
Tour is designed in collaboration with Helsinki Marketing. All stories made by Tripsteri.
1. Gallery blocks of Old Church Park
Concentration of galleries for delightful contemporary art
Join the most fascinating gallery tour in the city! The Plaque Park, or more officially Old Church Park neighborhood, is guaranteed to be the Eldorado of a gallery fan. There are several high quality galleries around, featuring interesting contemporary art from the more and less known artists. Join the tour and listen to gallery presentations!
2. Street art of Baana
Relaxed and artistic light traffic route
Helsinki has slowly but surely opened its walls towards artistic brilliance after years of prohibition, when graffiti was considered clutter and scraped off the walls. The popularity of street art has soared, and today artists have several venues to practice their creativity in the middle of the city. Walk along "Baana" and listen to the audio story with the most interesting picks of the street art along the "Baana"!
3. The Finnish Museum of Photography K1
Pearls of photography in Kämp Galleria
In addition to the Finnish Museum of Photography at the Cable Factory, the best place to see photography is K1 on Aleksanterinkatu. Dive into the mystical world of images on the bottom floor of Kämp Galleria and listen to a short story about the history of Finnish photography.
4. Erottaja "Faith Hope Love"
Erottaja spatial work & a percent for art program
Public spaces are like the face of the city, which is why Helsinki's appearance is worthwhile investing in. Today, spatial works can be found in almost every corner of Helsinki to rejuvenate the cityscape. The City of Helsinki Art Museum HAM cares for more than 9000 pieces of art which include public works. Listen to the story of the work of art on Erottaja and learn more about the percentage principles behind this.
5. Gaia of Helsinki Music Centre
The goddess of public artwork
When visiting the Helsinki Music Centre it's impossible to unnotice the magnificent steel sculpture – Gaia. This 10 metre high masterpiece is suspended from the ceiling and can be seen all the way from the Mannerheimintie. Listen to Gaia's story!
6. Secret Shop
The design kiosk of fabulous discoveries
Many travellers have noticed a tiny little shop resembling a kiosk next to Postitalo. And it actually is a kiosk, a secret shop of design products! If the shop happens to be closed when you walk by, it is still recommended to take some time to do window shopping. The items in this shop are truly unique. Listen to the story of Secret Shop!
7. Glasshouse Helsinki & Lokal Helsinki
New design in a modern concept store
When looking for gifts, there's no better place than this modern concept store on Aleksanterinkatu to find interesting design. Small Finnish design entrepreneurs are well presented and the hub is all about experimenting and fusing different disciplines together. Glasshouse Helsinki that also owns the neighboring Lokal Helsinki is an ecosystem that relies on responsibility and comprehensive transparency. Listen to find out more about the hottest design attraction in town!
8. Atelier of artist Marita Liulia
The story of a fascinating artist
One interesting Finnish stage name is Marita Liulia, who is often referred to as one of Finland's first multimedia artists. Liulia's expertise also includes paintings, photographs, videos, games, short films, dance works and books. Learn where Liulia draws her strength, what have been her biggest challenges and what kind of life she wants to live.
9. Tom of Finland's residence
Tom of Finland as a brand for his country
Walk over to Tom of Finland's memorial plaque and listen to the story of Touko Valio Laaksonen. Who was the secretive man behind hyped artist Tom of Finland? Where did the interest in men showing off in uniform come from and did Laaksonen ever dare to step out of the closet.
10. Amos Rex
The most fascinating museum in town
This exciting museum is situated under the ground. It provides the most compelling new architecture in Helsinki, as well as a living urban space with number of intriguing exhibitions. Amos Rex is a unique creation inside out. The mounding domes in the Square invite the passers by to climb up and take a peek inside. Listen to the story of Amos Rex and enjoy the art experience!
11. Tove Jansson's atelier & memorial plaque
Listen to what kind of attic Atelier Tove lived and worked in, when she created the Moomins
Here on Ullanlinnankatu Tove Jansson was living and working from 1944 to her death, in 2001. You can see the memorial plaque and a relief of young Tove Jansson on the wall of the building. The relief is sculpted by Tove's father, sculptor Victor Jansson, and the plaque is designed by Carl Henning. The plaque says: "Tove Jansson lived here 1944-2001". Listen to the whole dramatic story of Tove's atelier!
12. HAM & Tove Jansson Gallery
A tribute to Tove's mother
The abbreviation for the Helsinki Art Museum, HAM is a tribute to Tove's mother, a productive illustrator who signed her work with "Ham". Listen to what kind of woman Tove's mother was, which Moomin character has been inspired by her, and what Tove Jansson's gallery holds.
AND MORE!
Download DayTripster App!
Stories by: Siru Valleala & Paula Kultanen Ribas.
Readers: Katri Kantoniemi & Eric Bergman.
Audio production & music: Pau Ribas / Tripsteri Studios.